Facebook has unleashed its Spark AR platform onto the public, opening it up to Instagram users. Spark AR gives you all the tools you're need to create and upload augmented reality filters on Instagram. However, you'll still need to provide the skills.
At F8 2019, Facebook announced that it would soon be allowing Instagram users to create their own augmented reality effects. And with Facebook's Spark AR platform coming out of closed beta and into public beta, you can now make your own Instagram AR effects.
How to Make Your Own Instagram AR Effects
Facebook revealed the launch of the Spark AR public beta in a post on Tech@Facebook. Facebook describes Spark AR as a platform giving people "the tools, inspiration, and resources they need to add new layers of meaning to the world".
The closed beta meant Spark AR was previously only available to approved creators. However, the public beta means "anyone can create and publish their own Spark AR effects on Instagram". And your filter could then appear in the new Effect Gallery.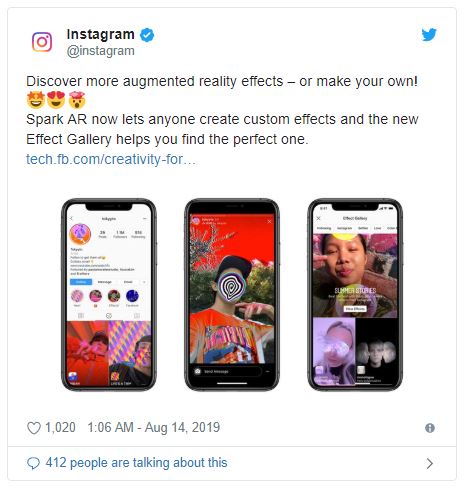 To find new AR effects to try, open
Instagram
, click on the
Camera
, and scroll all the way to the end of your effects tray. Then click
Browse Effects
to open up the new
Effect Gallery
. You can then try any AR effects that take your fancy.
To create your own AR effects, visit the Spark AR Studio website. You can then download Spark AR on Windows or macOS, and start creating your own augmented reality effects. There's drag-and-drop functionality, and tutorials for anyone who is struggling.
The Best Instagram Filters and How They Work
It's unlikely that everyone will be able to make their own AR filters for Instagram. And even if you do, the chances of it being good enough to go viral are remote. Still, if you have always wanted to experiment with filters, Studio AR allows you to do so.
There are all manner of different filters available on Instagram, with AR effects being the newest. However, here are the best Instagram filters and an explanation of how they work. Which is the perfect read for anyone new to Instagram.