At Facebook's F8 developer conference in San Jose, California, Tuesday, the company took pains to present itself as a privacy-friendly company that prioritizes its users' safety following a scandal-ridden year.
Yet while it touted encryption, secure data storage, and private interaction, Facebook continues to press forward with more ways for users to engage with the platform, leaving plenty of data behind.

Facebook introduced a new feature that will help people date their friends, which some onlookers immediately pointed out seems destined to end poorly. And it said its larger dating product would roll out in the US at the end of the year. Facebook is also adding new features to Messenger that would allow users to watch video with multiple people as it tries to be more competitive in video chat. And it announced new shopping features like shipping and payment for Facebook Marketplace, Instagram, and WhatsApp as it eyes e-commerce giants like Amazon and eBay.
Regarding privacy and safety, Facebook said it would make groups a more prominent part of its product, creating more space for sharing and interacting with smaller communities. It said it's testing removing the like counts from posts in Instagram's feed in an attempt to make people feel less bad about themselves as they scroll through. And it said Messenger will go end-to-end encrypted.
As they introduced new features, Facebook's product executives said the word "privacy" over and over. But with its dating and shopping features, the company opened up potential new avenues to learn about who we are.

Instagram has a new Create Mode.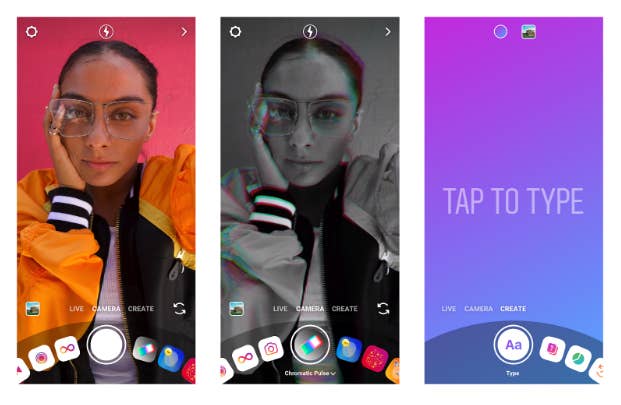 The camera in Instagram Stories is getting an overhaul, making it easier to find and use some of the extra quirky features, which have been sort of hard to figure out for lots of users.
Create Mode will let you create an image for Stories that isn't a photo or video – something users have been doing ad-hoc for a while by blacking out images or posting big blogs of text. Now, it'll be easy to just post a solid color background with text or GIFs over it.

Instagram is hiding like counts from followers in a test to see if you'll feel less horrible.


Instagram will test hiding the like count from photos and view count from videos in an effort to get users to pay attention to the content itself and not their associated engagement metrics, the Facebook-owned app announced Tuesday at F8, Facebook's annual developers conference.
In the test, followers won't see a photo's total likes or a video's view counts in their Instagram feeds or when visiting a user's profile. The account owner will still be able to access their own metrics and see the total likes or views for a specific post, although they will need to tap through a post to view those metrics. Instagram said that the "private likes" test would begin later this week for users in Canada.