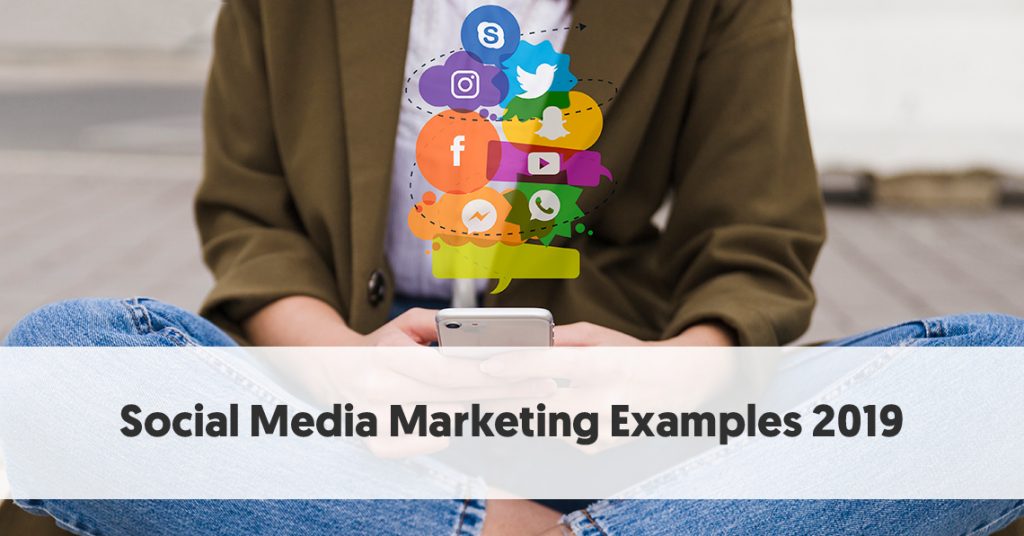 Social media marketing is not as easy as just posting content regularly. It takes a lot more than that. And, that is precisely the reason why some brands do much better than others on social media.
The brands that have nailed their social media marketing know that the secret to success on social media is knowing your audience and targeting them effectively. So, you don't just need to post regularly, but also ensure that your content is relevant to your audience.
And, if you look at the most successful social media marketing examples, you will see that the common theme is content that resonates with the target audience.
So, let's take a closer look at some of the best social media marketing examples of 2019, so far.

---
What They Did Right - Piggybacked on the Popularity of an Existing Trend
Starbucks is known for their engaging and out-of-the-box social media campaigns that grab attention. In June 2019, they've been running a campaign to celebrate Pride month and support the LGBTQ community.
As part of their campaign, they post colourful pictures of people from the community and introduce us to them. Then, they ask people to check out their Stories/Highlights to learn these people's stories.
They used both Instagram posts and Stories for this campaign and used attention-grabbing visual imagery to get people to click on them.
The best part about this campaign was that it took advantage of the current social sentiment of people celebrating Pride month. People are already talking about this and posting related content, so this easily connects with the audience.
As for their hashtag strategy, they used a branded hashtag #ExtraShotOfPride and a popular industry hashtag #Pride for their posts. Creating a branded hashtag encouraged their customers and employees to share their pictures with the hashtag. Using the popular and currently trending industry hashtag got them the desired visibility and reach that they couldn't have gotten themselves.
---
What They Did Right - Focused on a Cause That Resonates With Their Audience
Dove is a brand that has always focused on social causes in their social media campaigns. And these are especially centred around women's empowerment, inclusion, diversity, and breaking beauty stereotypes. Women are their key target customers and that is why Dove's marketing campaigns mostly target women.
In their latest campaign, Dove posted pictures of women from all walks of life and highlighted their unique qualities and characteristics. The idea is to accept and love everyone, no matter who they are and how different they are from us.
This campaign aimed to promote more acceptance of diversity and get people to be more inclusive when they see people who are different from them.
The beauty of this campaign was that it touched a nerve and asked women around the world to share their pictures, showing how they are different. The brand built a library of over 5,000 pictures and still counting.
Apart from the use of powerful social messaging, the campaign also garnered a lot of user-generated content for the brand.
---
What They Did Right - Use Gamification to Drive Engagement
Daniel Wellington is a brand that has learned the secret of leveraging UGC for their social media content. They often repost pictures of their customers wearing Daniel Wellington watches and encourage them to post more such pictures to get featured.
Recently, they gave their social media content strategy a twist by posting pictures taken at beautiful locations and asking people to guess where the picture was taken.
They are still doing the same thing that they were doing before, i.e. reposting pictures taken by their customers. However, they have added an element of gamification by making it a fun guessing game.
This strategy got them higher engagement on their posts than they normally did, as people comment on these pictures with their answers.
---
British Army's #YourArmyNeedsYou Recruitment Campaign
What They Did Right - Specific Audience Targeting with Emotional Messaging
British Army's 2019 recruitment campaign is a brilliant example of targeting the right audience with the right messaging. They wanted to target millennials via their Twitter campaign and encourage them to enrol in the army.
To do that, they decided to break all societal stereotypes associated with millennials and give it a positive twist. They would take a negative habit associated with millennials and show a positive characteristic that can be associated with it.
For example, millennials are known to take a lot of selfies and might even be called self-obsessed, But, the British Army called them confident because they take so many pictures of themselves.
And, not just that, they called upon the patriotic spirit of these British citizens and said, "Your Army Needs You" and your "positive characteristics associated with millennials." This campaign was brilliant because it resonated with the target audience by evoking positive emotions.
They also used two brand-specific hashtags for this campaign #YourArmyNeedsYou and #FindWhereYouBelong. And, with each post, they added a link to their website where people can go enrol for the program that suits them best.
---
Essie
What They Did Right - Use of UGC


Nail enamel brand, Essie, is one of the brands that has mastered the art of leveraging UGC for their social media account. On Instagram, they ask their followers to share pictures of themselves wearing Essie colours and use the hashtag #essielove for a chance to get featured.
This is a classic example of how a brand can get their customers to generate content for them. The chance to get featured on the brand's official Instagram account is the motivation for them to share their pictures.
And, this obviously benefits the brand because they get tons of mentions and free content to post on their social media.
One additional thing that Essie does is give a colour of the month as a cue to share more pictures of that colour.
Some brands also ask people to mention them to get featured, but hashtags are better because using hashtags you can keep track of all the UGC generated through that campaign.
---
Moonpie and Greggs
What They Did Right - Use of Humour to Get Engagement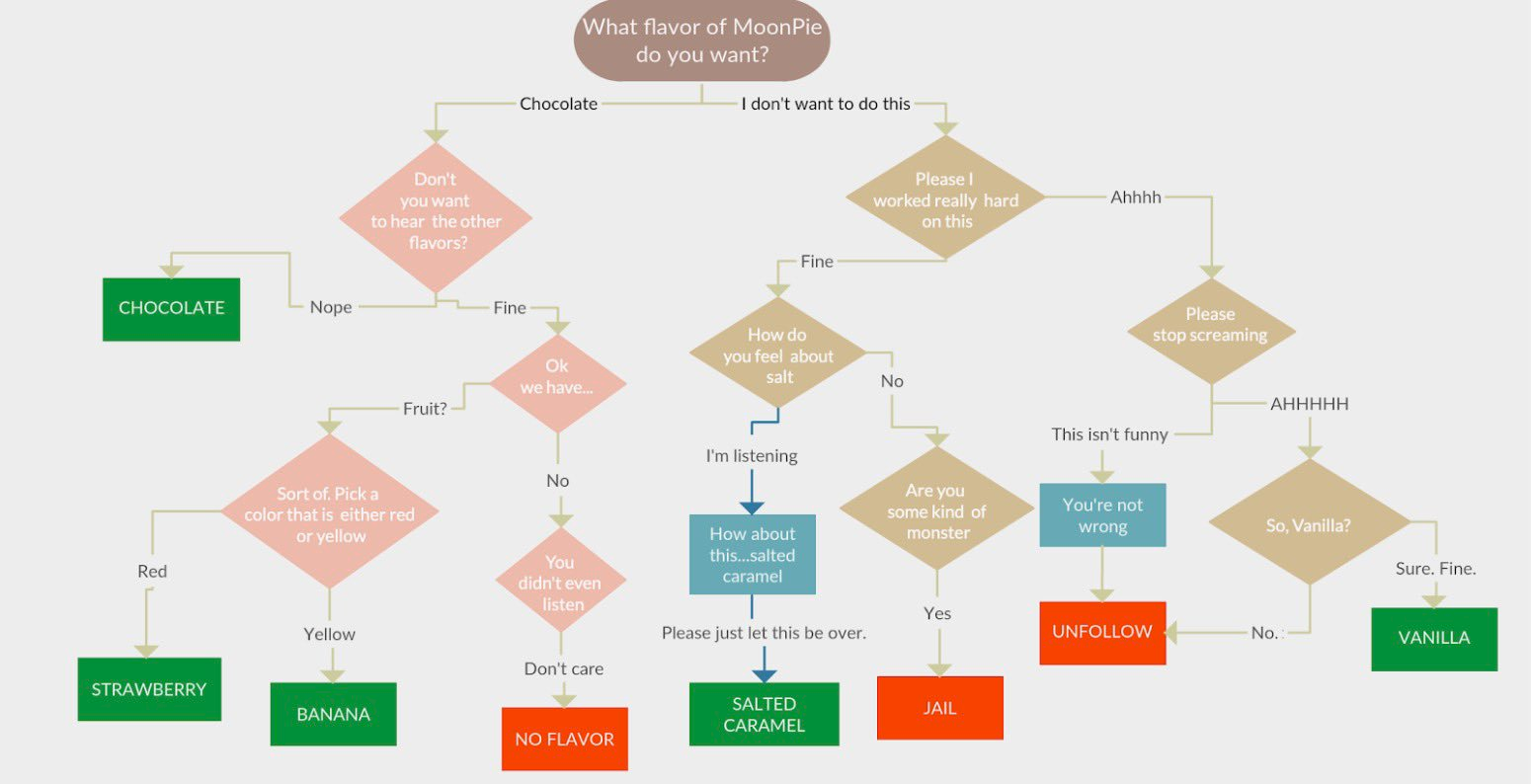 Moonpie is a cookies brand that uses humour as a way to connect with their audience. The product itself is a consumable with a limited number of variants. And, the brand does not have a lot of content to talk about as new variants aren't launched frequently.
It is a classic product that everyone knows about and the key marketing goal for the brand is to keep their audience engaged.
So, the brand found another way to stay active on social media and keep in touch with their audience—humour.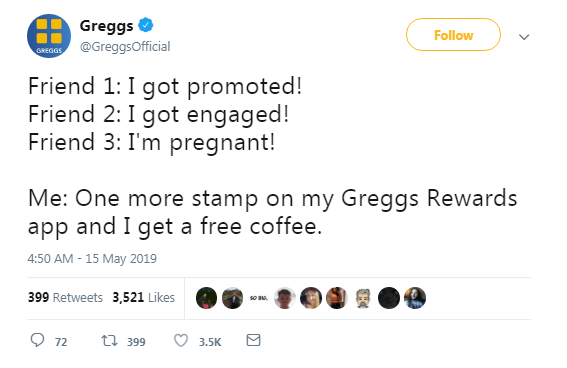 Greggs is another brand that excels at using humour to drive consumer engagement on their social media content. It is a large bakery chain in the UK that is widely popular and needs no introduction.
So, as an established brand, their social media marketing goal is not brand awareness, but only to maintain their brand image and engage their audience. For that, they use humour in their tweets and get good engagement rates.
Therefore, it is safe to say that for well-established brands that don't have a lot of content that they can share regularly, this is a good strategy. You might not have new products to promote every week or a copywriting team to keep your profile active, but you can surely post a new joke daily.
---
Gilette - The Best Men Can Be
What They Did Right - Video Marketing and Social Messaging
This is another great example of a marketing campaign that uses social issues and powerful messaging to attract attention and get engagement. With their "The Best Men Can Be" campaign, Gilette tried to break stereotypes about how men are "supposed" to be.
Society has certain expectations from men and how they are supposed to act or think. Gilette created a video for their YouTube channel that broke these stereotypes to show what men can be. They also shared this video on Twitter and it got thousands of likes and retweets because this was something people could relate to.
The best social media campaigns are those that manage to hit a nerve with their intended audience and this video did just that. The target audience, in this case, were men and they received the video very well because it helped break stereotypes.
---
Conclusion
These are some of the most effective social media marketing examples of 2019 that you can take inspiration from. These brands have learned the secret to social media marketing success and you can learn from their strategies.
Check out the social media pages of these brands to see what they are doing and how they are winning the social media race. Use these insights to formulate your own social media marketing strategy and achieve your marketing goals.